Amanda Yorwerth's Environment Matters podcast on "Entrepreneur in food waste fight and have you seen a mouse?" has just passed the 1000 listens milestone, showing both just how popular the environmental topic is, but also that our outreach and audience is growing.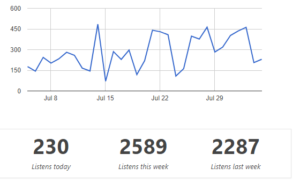 We can view and provide statistics on your podcasts, which also helps when talking to current or potential sponsors and advertisers. We're now getting 2000+ podcast listeners a week!
We'll be holding a drop-in session on podcasts at the end of the summer, so if you fancy widening your audience and you don't already do podcasts, make sure you come along and learn how.
Congratulations Amanda on reaching this milestone!