This is your chance to be a star for an hour on your local radio station. How would you like to play the music you love, give some shout outs to your friends and get to grips with being a real radio presenter?
On Saturday and Sunday July 4th and 5th, we are offering 15 lucky people the chance to take over the airwaves across the Radio Verulam network and become radio presenters! You'll be heard on 92.6FM, all the radio apps and online.
£130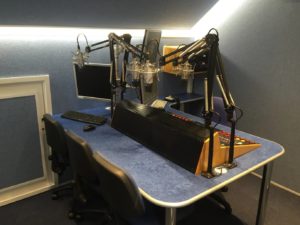 What you get
A whole three hours in the Studio
1st hour – How it all works
2nd hour – Learning to Fly the Desk & the Software
3rd hour – You're on Air!!!
Shout Out's to your Family & Friends
Your own choice of Music from our library played
Talk about your fave Tracks & why you chose them
All your Air Time Recorded specially for you as a keepsake
Tea/Coffee & Cake!!
We'll give you full training and the chance to choose from our music library, replacing all our normal programmes.
This initiative is helping to fund our "big studio refit" project and gives you the chance to purchase a once in a lifetime experience and help support your local radio station
On the day, we'll provide you with some training in the art of presenting, someone to help you put together your running order and we'll help you operate all of the equipment. Afterwards, you'll get a recording of all your talky bits to keep and share. You'll meet some of our professional level presenters and learn from them and we'll provide coffee and cake to keep you going.
You could also choose to have one of our presenters present with you and ask you about your life, your passions and the music you love….or you can fly solo; it is up to you.
Your experience day (which might also make a great gift for a friend or loved one) costs you just £130, all of which gets put straight back into providing a real local radio service for our community.
You'll work with some of our talented presenters, such as
Frequently Asked questions
Can I cancel if I can't make it?
We accept cancellations within 7 days of purchase but after that we can't accept cancellations or changes
How do I know which day or time I will be coming in?
We will arrange a day and time with you as soon as possible after your purchase
Is this open to anyone?
People under 18 will need to be accompanied by a parent or guardian and unfortunately our studios are not disability accessible
Can I bring a friend along?
You can bring someone along to watch but they won't be able to appear on air; if that's what you want, why not buy two hours together?
Can I say whatever I like?
Sorry; no. There are strict laws and regulations which apply to a radio station. Don't worry, we're not going to censor most things but we will give you guidance on what you can and can't do.
Can I play whatever music I want?
You can choose with our guidance from our music library. We will be maintaining the music our weekend listeners love so we'll work with you to fit in with that library.
If you have any other questions, please contact us here